Tampa Bay Downs – Rv Park Florida – Bay Bayou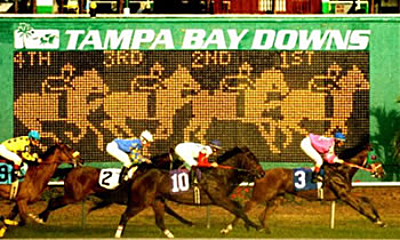 Tampa Bay Downs hosts horse races, golfing and has poker tables for your enjoyment. It is only minutes away from Bay Bayou – RV Park Florida.
Tampa Bay Downs is the only Thoroughbred race track on the West Coast of Florida, and is known as one of America's oldest and most well-maintained racetracks. It first opened its doors in 1926 under the name of Tampa Downs, and has since had a long and colorful history.
The present owner purchased the track in 1986, and since then has been continually improving it's facilities.
Tampa Bay Downs added its 7/8th mile grass track, complete with a ¼ mile chute, in 1998, and has become one of the most popular turf courses in North America.

The millennium brought even more amenities to the track, including the Downs Golf Practice Facility, which allows patrons to practice their swing while viewing and wagering on simulcast racing; as well as The Silks Poker Room, the card room that has become one of the hottest spots in town and both are open 7 days a week.
Simulcast racing is broadcast throughout the track mainly on new flat-screened plasma or LCD televisions on both live racing days and during the track's off-season. Join us for all the sporting excitement — Gates open at 11:00 AM and post time for the first race is 12:25 PM, unless otherwise noted. * estimated
The Silks Poker Room is now open 7 days a week 10:00 am – 4:00 am
Our Guarantee
Bay Bayou RV Resort takes pride in being highly rated by Good Sam for having a beautifully landscaped resort, including pool and patio area.
Get Your Reservation at Bay Bayou Today!