Best Theme Parks in the World Outside Your Door!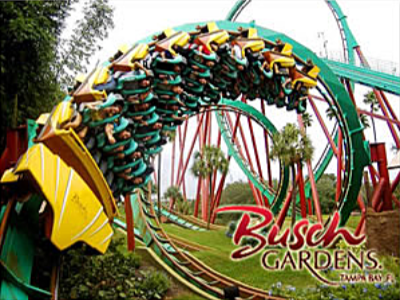 Theme Parks Close By
Bush Gardens — Theme Parks in Tampa
10165 N. McKinley Drive, Tampa, FL 33612
Phone: 888-800-5447
Cheetah Hunt
Nature's most graceful predator comes to life in Busch Gardens Tampa Bay's newest mega-attraction, Cheetah Hunt. Experience a new breed of speed that invites guests to celebrate the spirit of the cheetah. This new generation of thrills emerges from the crossroads where up-close animal encounters and awe inspiring rides come together.
Thrill seekers step forward If you're looking for thrills, challenge our incredible, floorless dive coaster, SheiKra: 200 feet up, 90 degrees straight down. Take on the mighty Gwazi: a colossal wooden coaster with a record-breaking six fly-bys and crossing speeds of 100 miles an hour. Or take on Kumba, a roaring steel coaster that will leave you breathless.

Disney World Resort, Orlando
Magic Kingdom theme park, one of 4 Theme Parks in Walt Disney World Resort, captures the enchantment of fairy tales with exciting entertainment, classic attractions, backstage tours and beloved Disney Characters.
Designed like a wheel with the hub in front of Cinderella Castle, pathways spoke out across the 107 acres of Magic Kingdom theme park and lead to these 6 whimsical lands: Main Street, U.S.A. area, Adventureland area, Frontierland area, Liberty Square, Fantasyland area and Tomorrowland area.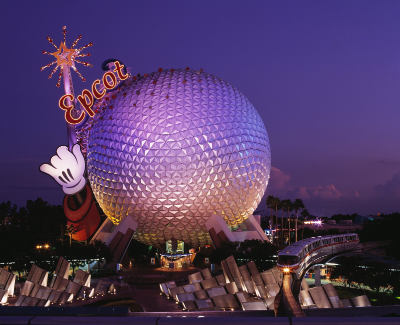 Epcot Center
Epcot theme park, sprawls across 300 acres—twice the size of Magic Kingdom theme park—and is divided into Future World and World Showcase.
Future World
Future World is full of sensational attractions—including one of the fastest attractions in all Disney Parks—as well as inspiring entertainment and shows, all of which focus on technological advancements, innovation and wonder. In Future World, ideas become reality.
The Epcot theme park icon, Spaceship Earth, looking like a giant golf ball rising high above the horizon, welcomes you as you walk through the Park's main entrance.
World Showcase
Beyond Future World, if entering from the main gate at Epcot theme park, is the World Showcase area. World Showcase is a collective of Pavilions that wrap around the World Showcase Lagoon. Inside the Pavilions, find shops, attractions and restaurants that represent the culture and cuisine of these 11 countries:
Mexico
Norway
China
Germany
Italy
United States
Japan
Morocco
France
United Kingdom
Canada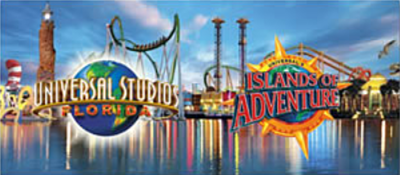 Universal's Islands of Adventure & Universal Studios Tampa
Come see what's new at Universal Orlando Resort, where our designers are always coming up with groundbreaking new rides and attractions.
At Universal's Islands of Adventure® you can swing high above the city streets with Spider-Man like never before on The Amazing Adventures of Spider-Man®. All the 3-D footage of this award-winning attraction is being reanimated for 2012 in stunning high-definition, making this life-like ride even more incredible. Islands of Adventure is also where you can experience the magic and excitement of The Wizarding World of Harry Potter™. Join Harry and his friends on an unforgettable adventure in the new ride, Harry Potter and the Forbidden Journey™. Climb aboard one of two dragons in a high-speed roller coaster chase across the sky in Dragon Challenge™. And take off on Flight of the Hippogriff™, a family-friendly coaster that spirals and dives around the pumpkin patch, swooping past Hagrid's hut.
Right next door at Universal Studios you can be in the center of the action on an all-new ride based on Universal Pictures smash hit movie, Despicable Me. Gru, one of the world's greatest super-villains, is bringing his high-tech empire and his three adopted daughters to Universal Studios Florida® in 2012 for an all-new 3-D adventure. You can also climb aboard Hollywood Rip Ride Rockit®–the most personalized and immersive roller coaster experience in the world, where YOU pick the soundtrack while on-board cameras record your pulse-pounding flight.
Universalorlando.com/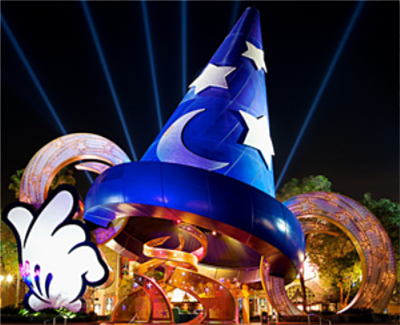 Disney's Hollywood Studios
Disney's Hollywood Studios theme park, offers behind-the-scenes glimpses of Hollywood-style action with live shows, thrilling attractions, backstage tours and special events that only happen in this Disney Park dedicated to entertainment.
The glitz and glamour of the Hollywood Heydays from the 1930s and 1940s are captured by the neon, chrome, art deco and modern architecture throughout Disney's Hollywood Studios theme park. The streets and sections of the 4 areas of the Park blend together like a large, bustling movie set.
Step into the action with new attractions—like the American Idol Experience—that might put you center stage and under the spotlight. Feel like a star, or come face-to-face with one! Collect autographs and pose for photos at special events or at Character greeting locations.
Live out your desire for stardom by participating in parades, being part of a rock 'n' roll fantasy and experiencing spectacular attractions based on blockbuster movies and top TV shows—all at Disney's Hollywood Studios theme park where movie magic comes to life!
Disney's Animal Kingdom theme park is full of attractions, adventures and entertainment that reflect Walt Disney's dedication to nature and conservation, and in doing so, the Park leads the way in animal care, education and research.
Home to more than 1,700 animals from 250 species and sprawling across 500 acres of lush landscape, Disney's Animal Kingdom theme park is the largest animal-themed park in the world!
Disney's Animal Kingdom theme park is divided into 7 areas:
Oasis
Discovery Island® area
Camp Minnie-Mickey
Africa
Rafiki's Planet Watch® area
Asia
Dinoland, U.S.A.® area
Our Guarantee
Bay Bayou RV Resort takes pride in being highly rated by Good Sam for having a beautifully landscaped resort, including pool and patio area.
Get Your Reservation at Bay Bayou Today!