Award Winning Beaches Minutes Away!
Beaches
If you took a survey and asked where St. Pete Beach or Indian Rocks Beach are, most would tilt their head and looked bewildered. But if you were to ask where Tampa Bay is, they would be able to point to the map directly. That is why we call this area the Tampa Bay Beaches. It gives our visitors a better sense of where our friendly beaches are located.
Off the west coast of Pinellas County (where St. Petersburg and Clearwater are) you'll find 10 barrier Islands. These natural islands are connected together by a stretch of road called Gulf Boulevard. You can learn about each individual beach by choosing one from the menu on the right.
Visit Tampa Bay's Multi – Award Winning Beaches!
Each Tampa Bay beach possesses its own individuality and administration, located so close to the main land of St. Petersburg and Clearwater that many travelers do not realize they are on an island.
With these islands having such easy access to the mainland, we have no need for goods to be delivered by air or sea, which keeps the cost of island living reasonable. We have it all, without the high price of island living!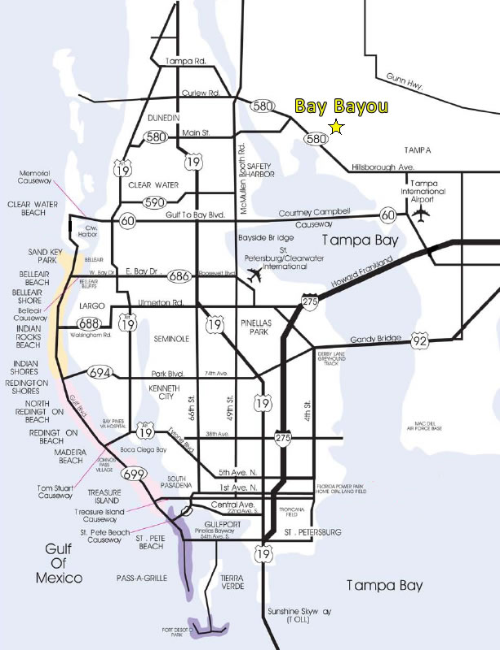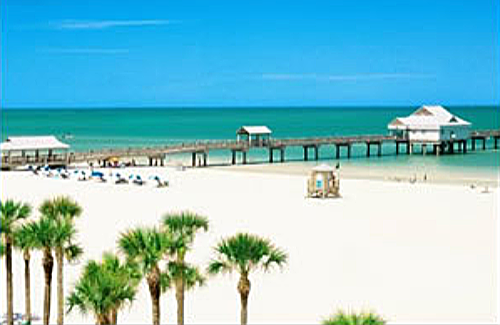 Clearwater Beach
As a year round top vacation spot, Clearwater offers a seemingly endless supply of sun and a mild and temperate climate.
It is ideally situated on the Gulf of Mexico on Florida's west coast, offering something for every visitor. With designations as Best City Beach, one of America's Top Family Beaches, one of the Top Singles Beaches in Florida, and one of the Best Beaches from Maine to Hawaii, be assured, Clearwater boasts award winning beaches and so much more.
Get Your Reservation at Bay Bayou Today!
Caladesi Island
As one of the few completely natural islands along Florida´s Gulf Coast, Caladesi´s white sand beaches were rated America's Best Beach in 2008. Beach lovers can enjoy swimming, sunbathing and beachcombing. Saltwater anglers can cast a line from their boats or surf fish.
Nature enthusiasts can spot wildlife while hiking the three mile nature trail through the island´s interior or paddling a three mile kayak trail through the mangroves and bay. Picnic tables and shelters are located near the beach, and picnic pavilions can be reserved for a fee. The park has a marina with electric and water hookups, as well as a snack bar and gift shop. The 661-acre park is accessible by boat or ferry. Ferry service is provided by the Caladesi Island Ferry.
The pioneers called it Hog Island, but it became Honeymoon Isle in 1939 when a New York developer built 50 palm – thatched bungalows for honeymooners. Today, visitors can drive across Dunedin Causeway to enjoy the sun – drenched Gulf beaches, mangrove swamps, and tidal flats. Nature lovers will find osprey nests, a wide variety of shorebirds, and one of the few remaining virgin slash pine forests in South Florida. The park boasts several nature trails and bird observation areas. Visitors can swim, fish, and snorkel in the warm waters of the Gulf or picnic while they enjoy the beautiful scenery. Shelling is particularly good here, as the Gulf currents deposit an incredible variety of seashells on the shore. Showers are available and the park´s concession has a gift shop and snack bar. Located at the extreme west end of State Road 586.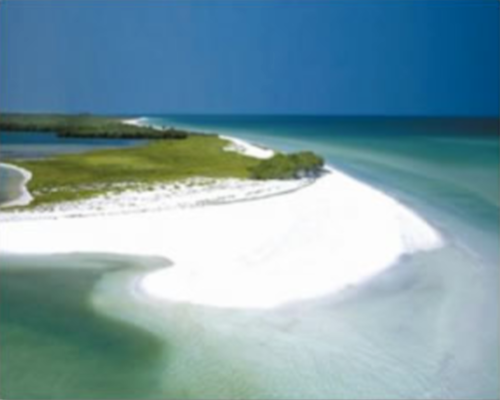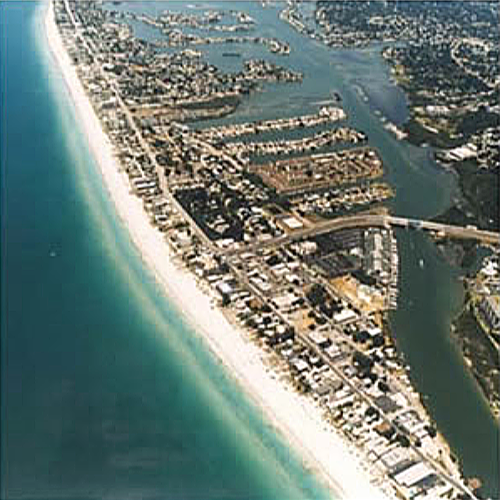 Indian Rocks Beach
The City of Indian Rocks Beach welcomes you and invites you to visit our "Little Piece of Heaven". Our sensitivity to the environment, safe beaches, wonderful restaurants, and quaint hotels continues to make Indian Rock Beach a favorite for seasonal guests.
Our city is less than three miles along the Gulf of Mexico and, like its neighboring barrier islands, waterfront property faces either the Gulf or the Intracoastal Waterway. At some points along this narrow piece of land you can view both bodies of water.
A quiet town of approximately 4,000, Indian Rocks Beach was initially developed in the 1920's as a weekend getaway destination for wealthy inland residents. Its 2.7 miles of beachfront are popular with all ages and between its array of motels and condominiums there are more than 20 beach accesses.
Our Guarantee
Bay Bayou RV Resort takes pride in being highly rated by Good Sam for having a beautifully landscaped resort, including pool and patio area.
Get Your Reservation at Bay Bayou Today!